The best mini-split heating and cooling systems provide superior energy efficiency and reliable performance you can count on, with flexibility to heat and cool specific rooms or areas inside the house.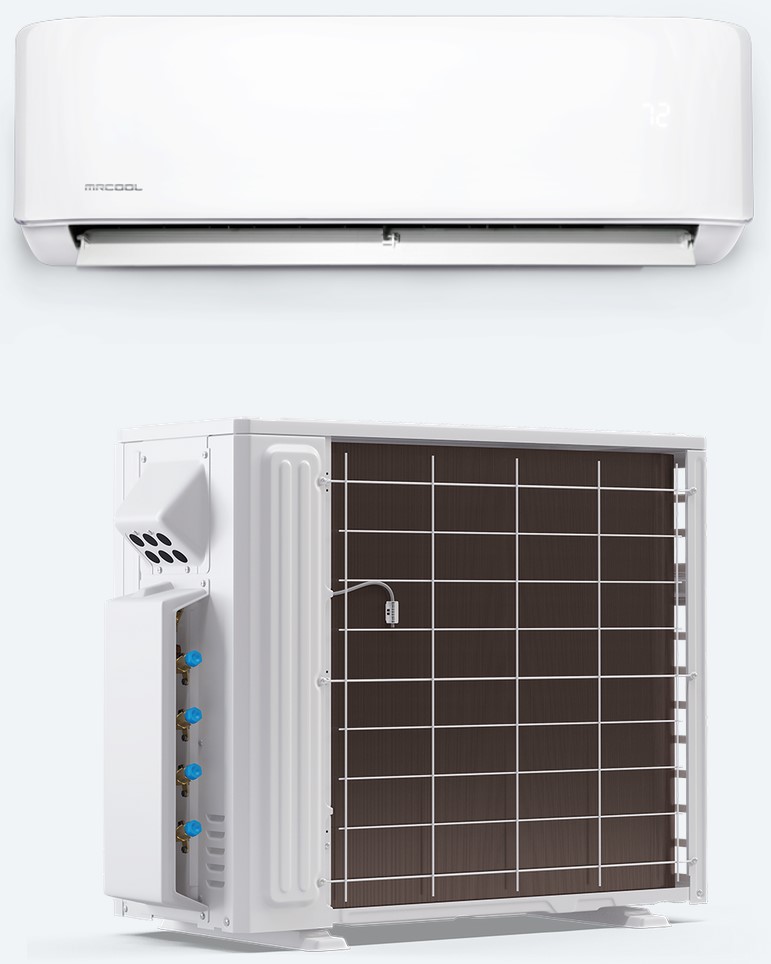 Your options include single zone and multi-zone mini split heat pump systems from top brands known for high quality and reliability.
Similar to central heat pumps, mini-splits deliver both, air conditioning and heating.
The top 10 ductless mini split heat pumps are:
LG High Efficiency Series
Carrier Infinity 40MPHA Series
Gree Livo Gen 3 Series
Klimaire Quick Connect Series
Fujitsu Halcyon XLTH Series
Mitsubishi M Series
Gree Multi+ Ultra Series
Daikin RMXS Series
MrCool Energy Star 4th Generation DIY
Fujitsu Halcyon XLTH Series
Full reviews follow below. Each recommended brand/model includes cost, efficiency levels, and pros & cons.
Note: This is Not an Affiliate Article
We're not trying to sell you a heat pump system from Amazon, Home Depot, or another affiliate site.
Why do we mention it? Because when you search for the best mini split heat pump systems, search results are populated with affiliate site articles seeking to sell you a system whether it is one of the best.
By contrast, our goal is to provide you with accurate information, so that you can make an informed decision about the ductless mini split heat pump you choose.
This guide is divided into Single Zone and Multi Zone systems in categories that will help you find what you want.
| | | |
| --- | --- | --- |
| Single Zone Series | Equipment Cost | Installed Cost |
| LG High Efficiency | $2,250 – $3,700 | $4,300 – $6,500 |
| Carrier Infinity 40MPHA | N/A | $4,400 – $7,400 |
| Gree Livo Gen 3 | $1,250 – $3,200 | $3,300 – $5,500 |
| Klimaire Quick Connect | $2,150 – $3,800 | N/A |
| Fujitsu Halcyon XLTH | $3,500 – $4,600 | $5,700 – $7,400 |
| Multi Zone Series (# of zones) | | |
| Mitsubishi M Series (2-8) | $4,150 – $15,500 | $7,300 – $27,000 |
| Gree Multi+Ultra (2-5) | $2,900 – $7,000 | $5,000 – $14,400 |
| Daikin RMXS (4-8) | $7,700 – $11,800 | $12,900 – $25,500 |
| MrCool E-star DIY (2-5) | $2,800 – $7,750 | N/A |
| Fujitsu Halcyon XLTH (2-5) | $5,800 – $9,400 | $14,300 – $18,000 |
Single Zone Mini Split Ductless Heat Pump Systems
These ductless heat pumps serve a single room or zone of a home or commercial setting. Most single zone systems offer only wall mounted indoor units, but a few give you other options such as a ceiling cassette or floor mount indoor unit.
Best Overall
LG manufactures ductless heat pumps with high quality and reliability.
The High Efficiency Series is available in 4 wall mounted single zone sizes: 9,000, 12,000, 18,000 and 24,000 BTU/hour.
Energy Star efficiency as high as 23.5 SEER/14.5 EER/11.3 HSPF are realized.
Equipment cost is $2,200 to $3,700.
Professionally installed cost is $4,300 to $6,500.
Pros & Cons: Excellent features – listed below. Efficiency is decent. 100% heating in temperature to -4 degrees Fahrenheit. Cools effectively in outdoor temperature to 118F.
The outdoor units are compatible with other wall mount styles including LG's popular Art Cool Mirror and Premier indoor units that are less efficient.
Top Features: WiFi with LG's ThinQ app, 24-hour timer, auto restart after outages. Automatic switch-over from heating to cooling based on your settings. Base pan heater that prevents condensate freezing. 4-way adjustable airflow.
Best Use: This is a hard-working mini split heat pump suitable for all but the most extreme hot and cold regions of the US.
Best High Efficiency
With up to 42 SEER air conditioning when used with the Infinity 38MPRA outdoor condensing unit, this wall mount system is ideal for sizzling-hot climates. Heating efficiency is an impressive 15 HSPF.
Sizes are 9K, 12K, 18K and 24K BTU/hour, suitable for 250 to about 1,000 square feet.
The proven technology behind the Carrier Infinity Series is made by Midea/Toshiba, the largest manufacturer of air conditioning systems in the world.
Cost: $3,750 to $7,400 installed.
Carrier equipment is sold only by dealers who also install it.
Pros & Cons: Premium efficiency = higher cost. WiFi is standard. Heating capacity is 75% in an outdoor temperature of -22F. This is a wall mount series.
If you'd prefer other indoor unit choices, the 28 SEER Carrier Performance Series at 28 SEER offers wall, floor, ceiling, and ducted indoor units.
Top Features: Modes are AC, Heat, Dehumidify and Fan-only. Turbo cools extra-fast. Variable speed fan. Remote has a "Follow Me" sensor, so the unit keeps running until that sensor is satisfied.
A wall-mounted wired controller is optional or use your current thermostat by adding the low-cost 24V Interface.
Best Use: The best return on investment is in climates with extreme high or low temperatures. The upfront cost is higher, but you'll recoup the extra money in 5-10 years through significantly reduced electric costs. This unit is too expensive to be a good investment in moderate climates.
Best Value
The Livo Series combines cutting-edge technology and an affordable price. This system is produced in 6 sizes from 9,000 to 36,000 BTU/hour. Efficiency ratings are up to 19 SEER/11 EER/10 HSPF. All sizes are Energy Star rated.
Cost: $1,250 to $3,200 for the equipment.
Installed cost is $3,300 to $5,500.
Pros & Cons: Wall mounted only. Gree quality is good, and the warranty of 7 years on the compressor and 5 on other parts is average.
You get a good return for your money – lower cost for average efficiency and durability. Provides heat to -13F.
Top Features: Full-feature remote with a temperature sensor. Multi-speed fan automatically adjusts with AC/heat output.
Best Use: We recommend this Gree mini split heat pump for most climates, even those with longer, warmer cooling seasons. Yes, there are more efficient heat pumps, but the much higher cost of those options might not pay off long-term.
Best DIY
Klimaire is another Midea brand. We chose this one because of its value – good quality at a lower cost than MrCool (the only other major DIY brand).
Single-zone options are 12,000, 18,000, 24,000 and 36,000 BTU/hour. Efficiency levels up to 20 SEER/12 EER/10.5 HSPF.
Cost: $2,150 – $3,800 for the system.
No installation labor charges if DIY.
Pros & Cons: Easy DIY installation. A good range of sizes. Competitive price. Very good set of features. Auto-clean function reduces maintenance hassles.
Top Features: WiFi is standard. Modes are AC, Heat, Dry and Auto presets for optimal climate control. Multiple filter layers trap odors, break down pollutants and freshen the air. The remote has a temperature sensor.
Best Use: If you want an affordable mini split heat pump that should give you 8-15 years of reliable service, consider this model. Its efficiency level is best for moderate to warm climates, not those with extreme heat.
Best in Cold Climate
The Fujitsu Extra Low Temp Heating (XLTH) combines exceptional quality with the lowest ambient temperature heating available – full heating to -15F. Efficiency to 33 SEER/18 EER/14.2 HSPF is outstanding.
Your options for this Fujitsu ductless heat pump are 18K, 24K and 30K. Multi zone XLTH systems are also produced.
Cost: $3,500 to $4,600 for equipment.
Installed cost is $5,700 to $7,400.
Pros & Cons: This is a premium mini split ductless heat pump backed by a 10-year warranty. It is loaded with features.
The outdoor temperature rating and efficiency levels are among the best. It's a wall-mounted system only, however, and the cost is higher than average.
Top Features: WiFi, wireless remote with full control of features, auto restart, 4-way airflow and 4-speed fan, base pan heater for extreme cold.
Best Use: The best return on investment is in regions with the coldest weather – because it is effective in extreme low temperatures. It's a good choice for hot regions too because of high efficiency.
Multi Zone Mini Split Ductless Heat Pump Systems
If you're using the mini split in a very large zone or as a whole house HVAC system, then a multi zone system is preferred.
Multi zone, or multizone, mini split heating and AC systems range from 24,000 to 60,000 BTU/hour for most. A few are as large as 84,000 BTU.
Best Overall
This system is versatile, efficient, durable, and loaded with premium features for superior indoor climate comfort.
Outdoor units are 20K, 24K, 30K, 36K, 42K, 48K and 60K BTU/hour. Efficiency as high as 33 SEER/13.5 HSPF are available.
# Of Zones: 2-8
Cost: $4,150 to $15,500 for equipment. Installed cost for 2-8 zones is $7,300 to $27,000.
Pros & Cons: The M Series offers versatility in size and the types of indoor units that can be used – seven wall styles, two ceiling options plus floor-mounted and ducted. Leading technology is offered in its features.
Top Features: 3D sensors in indoor units detect the number and location of people in the room and direct airflow to them. They will also reduce output when the room is at less than the full capacity pre-set for each room/zone.
Multi-function filters in the indoor units deodorize, kill bacteria, and remove large and fine particles. A remote, weekly timer and multiple smart home features including WiFi are standard.
The M Series brochure is 176 pages, and our description just scratches the surface.
Best Use: This is a premium, long-term heating and air conditioning solution for your entire home or light commercial setting. The high efficiency makes it worth considering in extreme weather regions.
Best High Efficiency
Gree offers an intriguing combination of efficiency, quality, and competitive pricing – a good value for the money. This system also offers multiple indoor unit types. Outdoor units are 18K (2 zones), 24K (up to 3 zones), 36K (up to 4 zones) and 42K (up to 5 zones) BTU/hour. Efficiency levels are as high as 23 SEER/10.5 HSPF.
# Of Zones: 2-5
Cost: $2,900 to $7,000 for equipment. Installed cost of 2 to 5 zones is $5,000 to $14,400.
Pros & Cons: A good selection of sizes. Quite efficient. 3 wall unit styles plus ceiling, floor, and ducted indoor units. Gree is one of the more affordable brands, though some systems might not prove as durable as those from LG, Mitsubishi, or Fujitsu.
The 5-year warranty on all parts is slightly lower than the industry average. Low ambient temperature heat rating is to -31F.
Top Features: Temperature sensor in the remote. 24-hour timer. 4-way airflow can be adjusted – it is not sensor-driven.
Best Use: This Gree mini split heat pump makes sense in any climate. It provides good value and reduced energy use/cost.
Best Value
This Daikin's ductless system offers excellent quality backed by perhaps the best warranty available – 12 years. Efficiency is good at 19 SEER/10 EER/11 HSPF. Just one condenser size – 48,000 BTU/hour.
# Of Zones: 4 to 8
Cost: $7,700 to $11,800 for equipment.
Installed cost is $12,900 to $25,500.
Pros & Cons: The system works with most Daikin indoor units including wall, ceiling, floor, and ducted types. The only outdoor unit size is 48,000 BTU, so this system won't be the right fit for all homes.
Daikin is considered to have the most reliable compressor technology in the industry.
Top Features: Everything you'd expect – Full function remote with timer, WiFi app, wall mount indoor units have sensors for directing airflow to occupied areas. Good air filtration of pollutants, odors, and germs.
Best Use: 48K BTU is appropriate for homes from 2,000 to 2,500 square feet depending on the climate.
If you want high quality coupled with very good efficiency, this system delivers. It's ideal for all regions.
Best DIY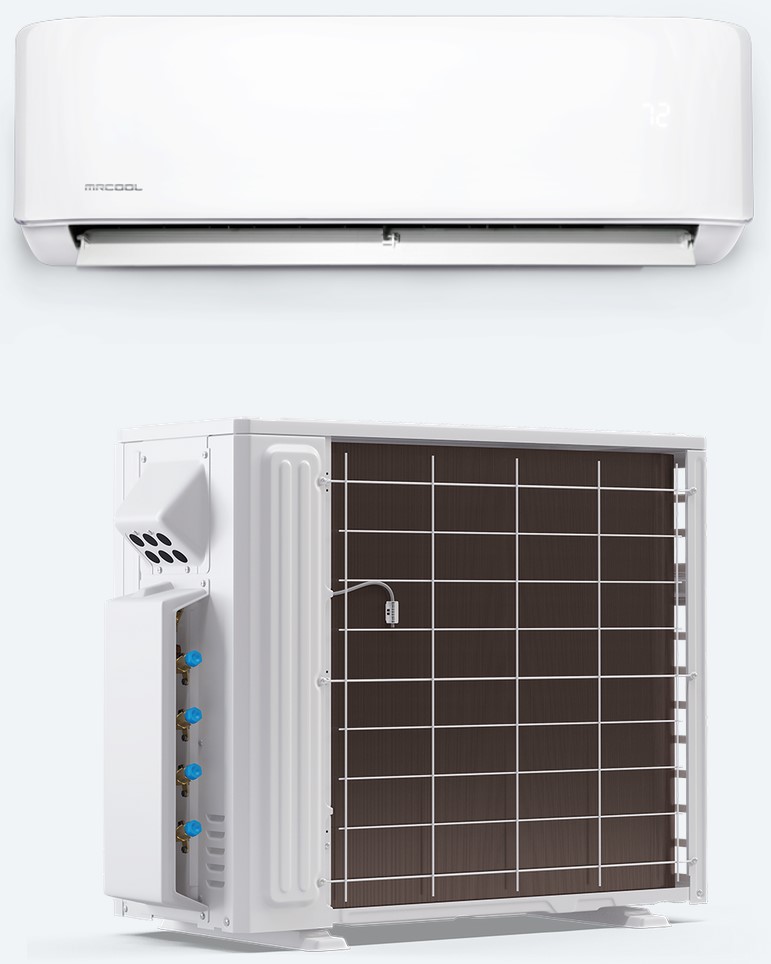 MrCool is the industry leader in heat pumps that do not require a licensed HVAC technician to install.
System options are an 18K, 27K, 36K or 48K outdoor unit for homes from about 1,000 to 2,700 square feet based on climate conditions. Efficiency up to 22 SEER/10.5 HSPF.
# Of Zones: 2-5
Cost: $2,800 to $7,750 for equipment. This is a DIY system. Installation by an HVAC contractor would bring the cost to $5,500 to $14,600.
Pros & Cons: No additional refrigerant charge needed. Energy Star certified. DIY takes moderate to good skills. Wall mounted indoor units only.
Top Features: WiFi. Works with Alexa and Google Assistant. Remote with temperature sensor.
Best Use: If you have good DIY skills and the tools needed for installation, MrCool's 4th Gen E-star system might be a good fit.
Best in Cold Climate
Ideal for extreme cold. It provides heating to -15F. Systems are 18,000, 24,000 and 36,000 BTU/hour. Efficiency up to 21 SEER/13.5 EER/10.3 HSPF.
# Of Zones: 2-5
Cost: $5,800 to $9,400 for equipment. Installed cost is $14,300 to
Pros & Cons: Good efficiency and excellent quality. A 12-year warranty (enhanced from 10 years) is available if you choose a Fujitsu-certified contractor for installation. Four indoor unit options – wall, floor, and ceiling choices. Price is high. WiFi is an option, not standard.
Top Features: Typical features – full function remote with 24-hour timer, auto restart, adjustable airflow.
Best Use: If you're committed to a mini split in an area where sub-freezing temperatures are common, consider this Fujitsu XLTH – extra low temperature heating. In milder regions, the higher cost of this system produces a lower return on your investment.
Mini Split Heat Pump Buying Guide and FAQs
Topics here include how to choose the right heat pump, DIY vs pro installation and sizing your system.
But first…
What Makes These the Top 10 Mini Split Heat Pump Systems?
Our criteria are:
Quality and durability based on technician information about reliability and repair frequency
Consumer satisfaction data about dependability and effective heating and cooling (climate control)
Criteria specific to the categories they represent – Best overall, best ductless heat pump that offers high efficiency, good value/return on investment, heating in subzero temperature, etc.
Ductless vs Ducted Heat Pumps
This is the mini split vs standard split system heat pump debate.
Ductless systems are ideal for new construction and for older homes when an HVAC contractor tells you that you need new ductwork. Skip the retrofit ducts and install a mini split ductless system.
If your home has ductwork in good condition and the right size for a new system, then the cost-effective way to heat and air condition your home is with a standard split system heat pump or an AC/furnace combination.
Efficiency levels have risen for those systems, so you won't have to give up a lot in terms of energy cost and conservation.
Choosing Efficiency Level for your Climate
Let's look at hot climates first, and then cold regions.
Moderate and Hot Zones
The hotter your climate is, the better choice a very efficient heat pump becomes. Pretty simple. Yes, cost will be higher, but you will recoup some of that cost every month.
In moderate climates, with summer temperatures in the 80s and 90s, a mini split with an efficiency of 18 to 23 SEER makes sense.
If you choose one of the most efficient systems like the 33 SEER Fujitsu Halcyon or Carrier Infinity, your additional cost over an average system will be too high to recoup over the life of the heat pump.
Cool and Cold Zones
In cool zones, heating efficiency becomes more of a factor. We recommend one of the 5 systems from the list with an HSPF above 11.
If energy efficiency is a high priority for you, then choose the most efficient model that meets your budget.
In the coldest regions where temperatures are often below freezing and sometimes below 0F, then choosing a heat pump with a low ambient temperature rating is essential. That means it can provide adequate heat in sub-zero weather.
If your heat pump can't provide heat in sub-zero weather, your home will be cold, or you will have to use supplemental heat sources. Space heaters are energy hogs. Wood/pellet stoves are expensive.
Either way, you've lost the benefit of having an efficient ductless system. The Gree Livo (-13F), Gree Multi+ Ultra (-31), Halcyon XLTH (-15F) and Carrier Infinity (-22F) heat pumps are the best choices.
Note on cold-temperature efficiency: While the heat pump might be able to draw enough heat from outside, it is going to have to work harder to do it – and efficiency will drop.
If you're researching an HVAC system for new construction and your climate experiences extreme cold, an efficient gas furnace is likely a better option for controlling energy spending.
What size mini split do I need?
Your climate, home's layout, and the insulation level of your home (insulation, house wrap, window quality/panes, etc.) all factor into what size mini split system you need. Under-sizing it means it won't do the job in the worst weather of winter or summer.
Oversizing it means temperature will fluctuate in all seasons and the air might be cool and damp when the unit is air conditioning your house.
So, we recommend having a contractor do a Manual J load calculation that considers all important climate and home factors.
If you're going to DIY, a sizing chart based on square footage will give you a pretty good estimate of the heat pump size you need. In general, here are common heat pump sizes and square feet they serve:
12,000 BTU – 350 to 500 square feet
15,000 BTU – 400 to 600 square feet
18,000 BTU – 500 to 750 square feet
20,000 BTU – 550 to 850 square feet
24,000 BTU – 700 to 1000 square feet
30,000 BTU – 850 to 1250 square foot
36,000 BTU – 1000 to 1500 square feet
42,000 BTU – 1200 to 1700 square feet
48,000 BTU – 1500 to 2000 square feet
60,000 BTU – 1800 to 2400 square feet
What is a Follow Me remote?
Follow Me or I Sense remotes: These remotes contain a temperature sensor that periodically sends a signal to the indoor unit about the temperature at the remote.
The indoor unit will continue to heat or cool the room until the sensor in the remote is "satisfied," which means the temperature setting on the remote is reached.
The value of this is that if you keep the remote near you, then the system will continue to heat or cool the space until the air around you is comfortable.
Are all MrCool ductless heat pumps DIY?
No, just those that specifically indicate they have precharged lines for DIY installation.
What are semi DIY mini splits?
That term is used in two ways.
Partially DIY installed: This means that the home or property owner does all the installation steps except those involving refrigerant charge.
An HVAC technician with a refrigerant-handling certification is hired for the purpose. This might be a good idea when HVAC contractors are slow. But everyone seems busy now, so you'll either find that nobody wants the job or they're going to charge a very high rate for it.
Ductless heat pumps that require pro-level tools: These systems contain enough refrigerant in the internal reservoir. But the refrigerant lines must be vacuumed before they are connected, and the refrigerant is released.
So, an HVAC vacuum pump is required. And a refrigerant pressure gauge designed for the right refrigerant type is used to pressure test the system.
Caution: Don't assume that you can DIY any mini split using a vacuum and gauge.
Most mini split heat pumps do not come with sufficient refrigerant and must be charged onsite with the appropriate amount of refrigerant based on the length of the lineset or total length of multiple linesets.
We recommend you either buy a fully DIY MrCool or Klimaire ductless heat pump or hire a pro for the entire job.