Heil has been in the residential heating and cooling industry since 1962, and they are part of International Comfort Products (ICP) along with many other HVAC brands. Heil manufactures single-stage, two-stage and modulating furnaces in two efficiency tiers.
Their high efficiency furnaces reach up to 98% Annual Fuel Utilization Efficiency (AFUE), and some models are ENERGY STAR Certified.
They also offer 80% AFUE furnaces, which are more affordable and cost-effective in milder climate zones.
According to the technical opinion of our HVAC experts, Heil can be considered a mid-tier furnace brand. They offer a wide product selection that includes high efficiency units, but other brands have a better track record of reliability and durability. If you will move to another home in the near future and only need a short-term solution, Heil can meet the heating needs of your home.
On the other hand, if you're looking for a furnace that will work reliably for 15-25 years, you should consider a top-rated brand like Carrier or Trane.
Did you know? International Comfort Products (ICP) owns Heil, Airquest, Arcoaire, Comfortmaker, Day & Night, Keeprite and Tempstar. The selection of furnaces offered by the seven brands is nearly identical. In turn, ICP is a business unit of Carrier Global Corporation, which means that Carrier owns Heil.
However, the ICP brands focus on mid-tier and affordable furnaces, while Carrier manufactures high-tier furnaces branded with their logo.
Heil Gas Furnaces: Main Product Features
The gas furnaces offered by Heil and all other ICP brands are classified into three performance tiers. All three tiers include high AFUE (90%+) and standard AFUE (80%) furnaces:

Ion Series (premium tier)
QuietComfort Series (standard tier)
Performance Series (value tier)
The Ion Series has the most accurate temperature and humidity control, making indoor spaces more comfortable. These furnaces use variable-speed blowers to ramp up their airflow gradually when the heating cycle starts. The furnace has more time to heat air circulating through the duct system, preventing cold drafts.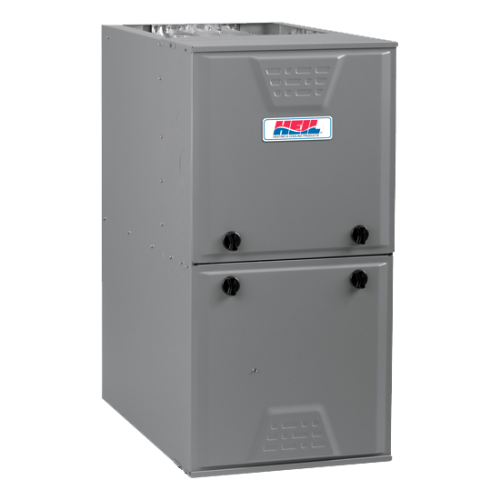 All furnace models in the Ion Series are compatible with the Wi-Fi Ion System Control, which enhances comfort.
The QuietComfort Series consists of two-stage furnaces with variable-speed fans, offering a balance between temperature control and price. These furnaces don't have the Wi-Fi Ion System Control, which means their temperature and humidity regulation is slightly less accurate compared with the Ion Series. However, the combination of a two-stage gas valve and a variable-speed fan offers excellent temperature control on its own.
The Performance Series is the cheapest furnace line offered by Heil. These are all single-stage furnaces, and only some models have variable-speed blowers. This means you can expect notable temperature and humidity variations when using these furnaces.
Pro Tip: There is a common misconception that high furnace efficiency (AFUE) is equivalent to product quality, but this is not necessarily true. An AFUE of over 90% simply means that the furnace uses a secondary heat exchanger to collect more heat when burning natural gas. The top furnace brands make both 80% AFUE and 90-99% AFUE units.