American Standard is one of the top furnace brands recommended by our HVAC experts, offering reliability and solid warranty coverage.
The company offers a wide product selection that includes high-efficiency furnaces (>95% AFUE) for places with cold winters, and more affordable 80% AFUE furnaces for places with milder weather.
American Standard is owned by Trane, one of the leading HVAC equipment manufacturers in the US.
When comparing furnaces, the best recommendation is focusing on specific models rather than brand names in general. Furnace manufacturers make products for all budgets, which means you may find premium units and cheap lower-quality units from the same brand.
A common mistake is assuming that high efficiency is always equivalent to high quality: you can find ENERGY STAR furnaces that break down after only five years, and modest efficiency units that can heat your home reliably for 15+ years.
For example, American Standard offers the high-efficiency Gold S9V2 furnace (96% AFUE) and the lower-efficiency Platinum 80 furnace (80% AFUE). Both products have an excellent track record in the industry:
High efficiency only means that a furnace includes a secondary heat exchanger to extract more heat from natural gas combustion.
A high AFUE is very useful if you live in a place with cold winters, but the extra cost may outweigh the savings in a place with milder winters.
80% AFUE furnaces are also an excellent option for vacation homes, Airbnbs and other properties that are only used part-time.
Here we will discuss how much you can expect to pay when purchasing an American Standard furnace, and we will compare their product lines while recommending their top furnace models.
How Much Does an American Standard Furnace Cost?
The installed price of an American Standard furnace will depend on the specific model chosen and local labor costs, among other factors. If you want to compare accurate quotes, the best recommendation is getting in touch with qualified furnace installers in your city.
Based on our research, a US homeowner can expect to pay around $7,820 when installing an American Standard furnace.
| | |
| --- | --- |
| American Standard Furnace – Cost Breakdown | Amount |
| Equipment | $4,620 |
| Installation labor and accessories | $2,800 |
| Permitting and other costs | $400 |
| Total Cost | $7,820 |
Before purchasing a furnace, consider the local climate. A premium efficiency unit (>90% AFUE) can be around $900 – $3,600 more expensive than a standard efficiency unit (80% AFUE) since it includes a secondary heat exchanger.
A high-efficiency furnace has a longer payback period and a lower return on investment if you live in a place with mild winters.
There are less opportunities to take advantage of a high AFUE, and you may not achieve enough gas savings to recover the price difference.
Did you know? Since American Standard is owned by Trane, many of the furnace models offered by both brands are identical. If you're looking for an American Standard furnace but the brand has limited availability in your location, consider purchasing a Trane unit.
American Standard Furnaces: Main Product Lines Available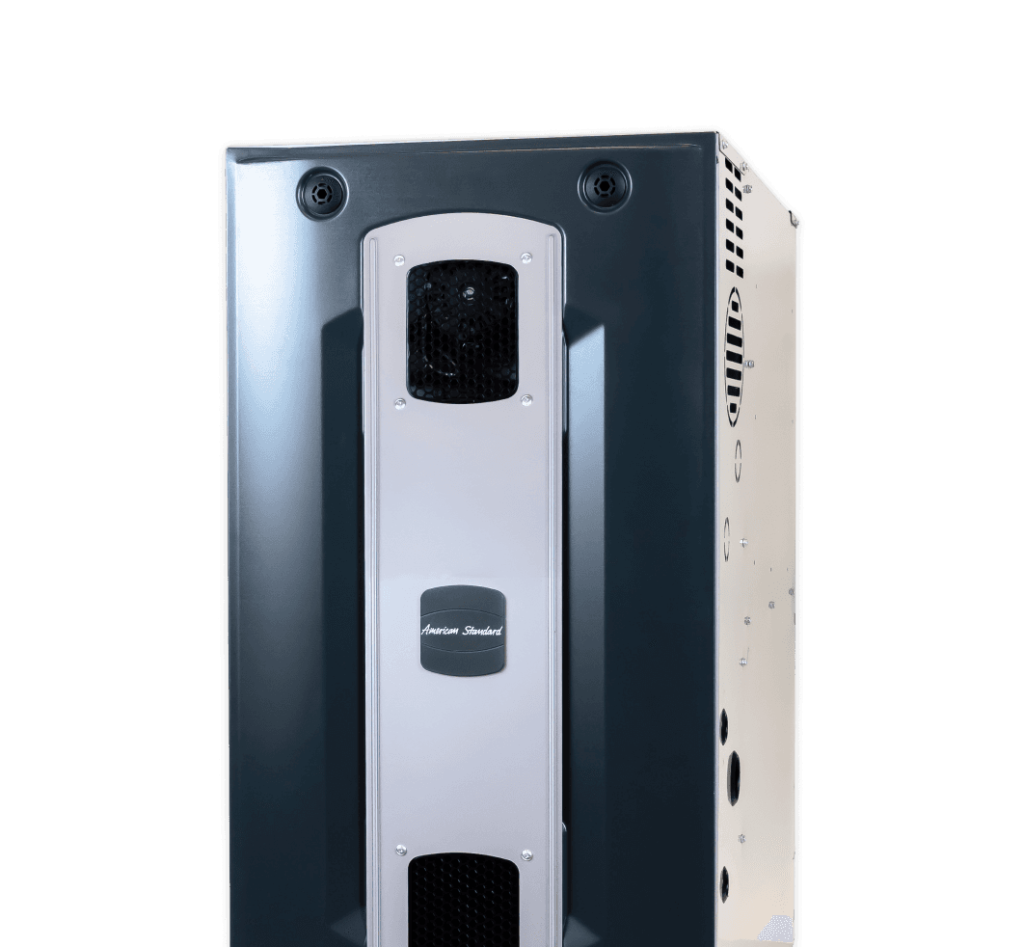 American Standard furnaces can be classified into three main product lines, as you can see on their official website:
The product selection offered by American Standard includes single-stage, two-stage, and modulating heating furnaces. Their Annual Fuel Utilization Efficiency (AFUE) values range from 80% to 97.3%, and some of their higher efficiency models are ENERGY STAR Certified.
As you might guess from their names, Platinum and Gold are the high-end furnace lines offered by American Standard, while Silver furnaces are a more affordable option. The following table compares furnaces from each of the three product lines:
| | | |
| --- | --- | --- |
| American Standard Furnace Model | Type of Furnace | Annual Fuel Utilization Efficiency (AFUE) |
| Platinum 95 | Modulating heating | Up to 97.3% |
| Platinum 80 | Two-stage heating | Up to 80% |
| Gold S9V2 | Two-stage heating | Up to 96% |
| Gold 80V | Two-stage heating | Up to 80% |
| Silver S9X1 | Single-stage heating | Up to 96% |
| Silver S8X1 | Single-stage heating | Up to 80% |
Single-stage furnaces can only operate at 100% heating output. When your home doesn't need the maximum heating capacity, the furnace reduces its average output by cycling between ON and OFF. Single-stage furnace are more affordable thanks to their simple design, but they have two main limitations:
Temperature control is less accurate, since the unit constantly switches between 0% and 100% heat output. You can feel the temperature rising and falling as the furnace cycles, and this can be uncomfortable for some owners.
Single-stage furnaces are also less efficient since they cannot ramp down to partial heating output.
As their name suggests, two-stage furnaces can operate at two heating outputs, which are typically 100% and 65% of nameplate capacity. This improves both temperature control and energy efficiency, without a drastic increase in equipment prices. Most of the furnace models recommended by HVAC experts have a two-stage design.
Modulating furnaces can adjust their heat output in small increments over a wide range, generally from 40% to 100% of rated capacity. Since these furnaces provide just the right amount of heat needed to heat your home, their temperature control is very accurate, and their energy efficiency is superior.
The main drawback of modulating furnaces is their high price, and maintenance is also expensive due to the complexity of their control systems.
Pro Tip: Two-stage furnaces offer a balance between cost and performance, achieving high efficiency without having the complexity of a modulating furnace.
What are the Best American Standard Furnaces?
American Standard offers several furnaces of excellent quality, but two models are consistently ranked among the best:
Both furnaces are available in 3-ton, 4-ton and 5-ton versions. They have two-stage heating and variable-speed fans, which means they can control temperature and ventilation very accurately.
For comparison, furnaces with single-speed fans produce a blast of cold air when they start, causing discomfort.
Furnaces with variable speed fans can ramp up their airflow gradually, making sure the air temperature reaches a comfortable temperature before the fan reaches full speed.
Of these two furnaces, only the Gold S9V2 model is ENERGY STAR Certified. The Platinum 80 is an excellent product with great customer reviews, but it does meet the minimum efficiency requirement for ENERGY STAR: 90% AFUE in southern states, and 95% AFUE in northern states.
However, keep in mind that high efficiency is only critical in places where furnaces have a high workload during winter, and 80% AFUE units are cost-effective in milder climates.
American Standard furnaces are also characterized by their solid warranties. The Gold S9V2 and Platinum 80 models are both covered by a lifetime heat exchanger warranty and a 10-year parts warranty. With proper maintenance, these furnaces can last for more than 20 years.
The following are some other features offered by the American Standard Gold S9V2 and Platinum 80 furnaces:
Both furnaces can be coupled with heat pumps to achieve air conditioning during summer, and combined electric + gas heating during winter.
Airflow control to prevent sudden blasts of cold or warm air.
Compatibility with the American Standard Acculink Communication System, which allows remote control and automatic alerts.
Did You Know? The American Standard Gold S9V2 furnace is identical to the Trane S9V2, and the Platinum 80 is identical to the Trane XV80.
If you cannot find the American Standard furnace you're looking for, Trane has identical options. The Trane S9V2 is widely regarded as one of the best furnaces, and the Trane XV80 has a successful track record of over 10 years.
Modulating heating furnaces are more efficient than two-stage heating units, but many experts don't recommend them because of their complex maintenance.
If you're looking for a modulating furnace, the Carrier Infinity 98 is considered one of the best options. Alternatively, you can look for a Bryant Evolution 98 furnace which has an identical design (Carrier owns Bryant).
How Does American Standard Compare with Other Furnace Brands?
As mentioned above, American Standard is among the top furnace brands in the US. They have above-average prices, but in return you get a durable and reliable furnace that is covered by a solid warranty.
If you're looking for other high-quality furnaces, keep in mind that many models offered by Trane are identical.
Other furnace brands that are often recommended by experts include Carrier, Lennox, Bryant, Payne, Rheem and Ruud.
Some brands you should avoid are Goodman, Heil, and York.
When comparing furnaces, remember that most brands offer several product tiers with different quality levels. You should not choose a furnace based on brand name alone; even the best manufacturers make lower-end products that are intended to be affordable.
The following are specific furnace models that have received excellent customer reviews:
Carrier Infinity 98
Carrier Infinity 80 58TN
Trane S9V2 (identical to the American Standard Gold S9V2)
Trane XV80 (identical to the American Standard Platinum 80)
Payne PG95ESA
Rheem Prestige R96V
Rheem Prestige R802V
Lennox Elite EL296V
Regardless of the furnace model chosen, you should make sure the heat exchanger is covered by a lifetime warranty (or at least a 20-year warranty).
The heat exchanger is the most expensive part of a furnace, and a replacement can be very expensive. Other recommended features to look for include two-stage heating and a variable-speed fan motor.
Finally, you should make sure your furnace is installed by qualified professionals. Even the best furnaces can malfunction if they are not installed according to the manufacturer's instructions, and you will most likely void the warranty.