Payne is frequently ranked among the most reliable furnace brands, comparable only with Trane in this area according to our HVAC experts. Payne makes both single-stage and two-stage furnaces, and their Annual Fuel Utilization Efficiency (AFUE) ranges from 80% up to 96% depending on the model chosen.
The high quality of Payne furnaces comes as no surprise: the brand is owned by Carrier, one of the top HVAC manufacturers worldwide.
If you're looking for a Payne furnace but the brand has limited availability in your area, you can find very similar models from Carrier. Just note that their prices will likely be higher.
You can find Payne gas furnaces for any application. Their product selection includes ENERGY STAR Certified models with two-stage heating in case you live in a city with harsh winters. On the other hand, you can purchase their more affordable 80% AFUE furnaces if local weather is milder.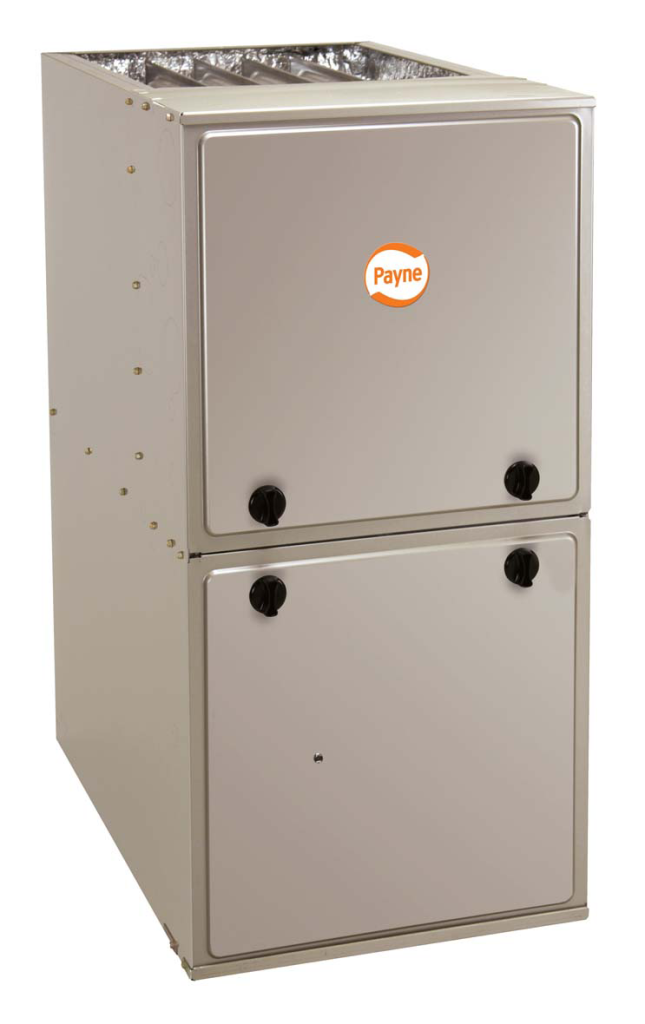 Standard efficiency furnaces are also a good option for vacation homes and other properties that don't need heating for extended periods.
Two of the best furnace models offered by Payne are the PG95ESA and PG96VTA. Both models are characterized by their durability and reliability, and they have an AFUE of up to 96%.
PG95ESA is a single-stage furnace, while PG96VTA is a two-stage furnace, more expensive but capable of controlling indoor temperatures more efficiently.
How Much Does a Payne Furnace Cost?
Furnace prices vary depending on the equipment model chosen and local installation costs. You might pay less than $4,000 to install a basic low-tier furnace and more than $10,000 for a premium unit.
Based on our research, you can expect to pay around $6,420 for a Payne furnace, and costs can be broken down as follows:
| | |
| --- | --- |
| Payne Furnace – Cost Breakdown | Amount |
| Equipment | $3,520 |
| Installation labor and accessories | $2,500 |
| Permitting and other costs | $400 |
| Total Cost | $6,420 |
Keep in mind this is a typical price and offers from local contractors who install Payne may be higher or lower. Across all brands, the average price of an 80% AFUE furnace is around $5,700, while the average price of a 90% or higher AFUE furnace is around $7,100.
Paying the higher price likely makes sense in colder climates, where you can take advantage of the superior efficiency. On the other hand, an 80% AFUE furnace is cost-effective in a warmer climate zone, where you may not save enough gas to recover the additional cost of a high-efficiency unit.
Did you know? High AFUE furnaces (>90%) use a secondary heat exchanger to extract more heat from natural gas combustion, while standard AFUE furnaces (80%) use a single heat exchanger, which makes them more affordable.
Payne Furnaces: Product Comparison
Gas furnaces in general can be classified into three main types, based on how their heat output operates:
Single-stage heating
Two-stage heating
Modulating heating
Payne sells single-stage and two-stage gas furnaces. Single-stage units can only operate at 100% heat output, and they switch on at intervals when their maximum capacity is not required.
Two-stage units can ramp down to 65% heating output when operating at partial load, instead of switching on and off repeatedly.
Finally, modulating furnaces can adjust their heat output anywhere from 40% to 100% of heating capacity.
Pro Tip: Modulating furnaces are not available from Payne, but you can purchase a Carrier Infinity 98 or the identical Bryant Evolution 98 if you're interested in this technology (Carrier owns both Payne and Bryant).
Before comparing the furnaces offered by Payne, there is a common misconception we must get out of the way: furnace efficiency (AFUE) is not equivalent to furnace quality. There are excellent furnaces with modest AFUE values, and >95% AFUE furnaces from other brands with terrible customer reviews.
High efficiency only means that a furnace has a secondary heat exchanger to extract more energy from natural gas combustion, but efficiency alone does not guarantee that components are of high quality.
The following table provides a summary of the furnace models available from Payne and their main features:
Payne Furnace Model
Main Features
PG96VTA
Up to 96% AFUE

Two-stage heating

Variable-speed blower motor

PG95ESA
Up to 96% AFUE

Single-stage heating

Multi-speed blower motor

PG95ESUA
A version of the PG95ESA designed to meet California's NOx emission standards.
PG92ESA
Up to 92.1% AFUE

Single-stage heating

Fixed-speed blower motor

PG80VTL
Up to 80% AFUE

Two-stage heating

Variable-speed blower motor

PG80ESA
Up to 80% AFUE

Single-stage heating

Multi-speed blower motor

PG80ESUA
A version of the PG80ESA designed to meet California's NOx emission standards.
*If you cannot find the Payne furnace model you're looking for, keep in mind there are very similar options from Carrier and Bryant.
All the Payne furnace models listed above can be paired with heat pumps, and you can achieve combined heating and air conditioning with a single system.
A furnace + heat pump combo can provide reliable air conditioning during summer, and it offers both electric and gas heating during winter.
You can switch between fuels depending on cost-effectiveness, and you can rely on gas heating when outdoor temperatures are too low for the heat pump.
Pro Tip: Two-stage heating should not be confused with the dual heat exchanger configuration used by high AFUE furnaces. There are 80% AFUE furnaces with single-stage and two-stage heating, and >90% AFUE furnaces with single-stage and two-stage heating. The number of heating stages and the number of heat exchangers are separate design features.
What are the Best Payne Furnaces?
Payne is one of the best furnace brands according to the opinion of HVAC experts: you're essentially getting a Carrier furnace with a different name at a lower price. However, two specific models from Payne are consistently ranked among the best available:
These are the two most efficient furnaces manufactured by Payne, both having up to 96% AFUE and ENERGY STAR Certification.
Some competing brands only focus on a high AFUE, but these two furnaces combine high efficiency with durability and reliability. Both models are covered by a 20-year heat exchanger warranty and a 10-year parts warranty from Payne.
The Payne PG95ESA furnace is considered one of the most reliable and durable in the industry, while being more affordable than other furnaces of similar quality.
The main drawback of this furnace is the single-stage design, which means the unit will cycle on and off when you only need partial heating output.
Since the furnace cycles between full heating and no heating, your home temperature will vary slightly throughout the day. However, this is the only weak spot of the PG95ESA furnace.
The unit also has a five-speed blower motor, which means it can adjust airflow throughout the heating cycle.
Although the unit cannot operate at partial heating output, it can achieve some temperature control by adjusting airflow.
In case you own a property in California, the PG95ESA family of high-efficiency furnaces has a version that is specifically designed to meet local NOx emission standards (PG95ESUA).
PG96VTA furnace is very similar to the PG95ESA in terms of product quality, but it has two additional features: two-stage heating and a variable-speed blower motor (instead of being limited to five speeds).
Since PG96VTA can adjust both heat output and airflow, it can control indoor temperatures more accurately than the PG95ESA. Thanks to its accurate heating and ventilation control, the PG96VTA also achieves some energy savings.
Additional Furnace Models Available from Payne
If your home is in a region with milder winters, Payne also makes the PG80VTL and PG80ESA furnaces. These models have a lower AFUE of 80%, but all other features are very similar to those offered by the PG96VTA and PG95ESA.
PG80VTL has two-stage heating and a variable-speed blower
PG80ESA has single-stage heating and a multi-speed blower
These furnaces lack the ENERGY STAR Certification, since the minimum AFUE required is 90% in southern states and 95% in northern states. However, they offer the same durability and reliability as their higher efficiency counterparts. Like the PG95ESA, the PG80ESA furnace has a version that meets California's NOx standards (PG80ESUA).
Payne also sells the PG92ESA furnace, which offers up to 92.1% AFUE. Unfortunately, this furnace model has a single-speed blower motor, which means it cannot adjust airflow throughout the heating cycle. You might experience a sudden blast of cold air when the furnace starts, which can be very uncomfortable on the coldest winter days.
How Does Payne Compare with Other Furnace Brands?
Payne is considered one of the most reliable furnace brands among HVAC experts. Their furnace selection available is limited to single-stage and two-stage units, but you can get excellent modulating furnaces from Carrier or Bryant. These two brands also offer single-stage and two-stage furnaces that are very similar to the models available from Payne (Carrier owns all three brands).
The list of furnace manufacturers recommended by our experts also includes Lennox, Rheem and Ruud.
Many competing brands offer a lifetime heat exchanger warranty, while Payne has an established term of 20 years.
This is not a major disadvantage, however, since Payne furnaces are characterized by their durability.
Regardless of the furnace brand you choose, keep in mind that companies make products for all budgets. For example, Payne is a solid brand, but the single-speed fan used by the PG92ESA can make your home uncomfortable with sudden blasts of cold air. All other Payne models discussed in this guide have multi-speed or variable-speed fans, which eliminate this problem.