Our HVAC pros have selected the 10 most energy efficient central air conditioners.
The units are divided by performance: 4 variable capacity options and 3 each for two-stage and single-stage models. Our strategy is to give you the most efficient options based on the performance level you want, as will be clear in the model reviews.
This guide is focused on the standard split system air source central air conditioners.
Each model is reviewed with the total cost installed, unit features and benefits, pros and cons, and information on how to use the AC for top ROI.
Split System Air Conditioner Options
As you shop for central ACs, considerations will include:
Size/Capacity: Residential air conditioning units can range in size from 1.5 to 5.0 tons, which corresponds to 18,000 BTU to 60,000 BTU.
Efficiency: ACs start at 13 SEER, though the least efficient from most brands are now 14 or 15 SEER. Maximum efficiency increases every year and tops out at 28 SEER with Lennox SL28XCV (024-230A) model for 2022.
Important Notes:
SEER is Seasonal Energy Efficiency Ratio, a measurement of how effectively the unit uses electricity to move heat from inside to outside.
SEER ratings: Each model's SEER rating is qualified with "Up to." Why? Because the efficiency level drops slightly in larger models.
For example, the Carrier Infinity 26 offers 26 SEER in the 2-ton and 3-ton sizes, but the 3.5-ton to 5-ton models range from 22.5 to 25 SEER.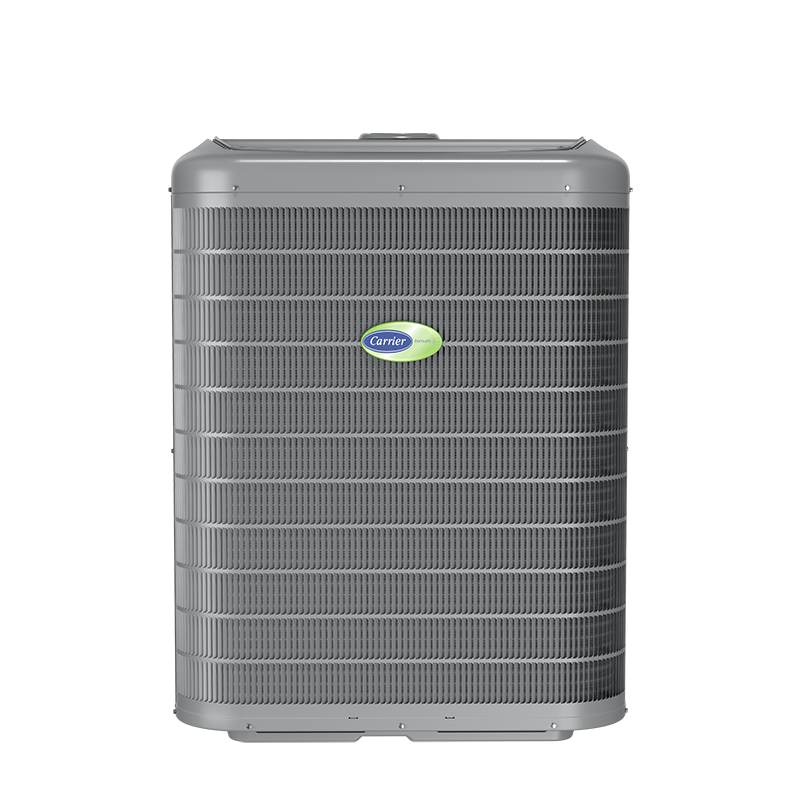 Installed Cost: Expect to pay $4,900 to about $12,500 to have a central AC installed. This includes the outdoor condensing unit, a matching coil placed in or adjoining your furnace or air handler, new refrigerant lines and possibly a new thermostat.
Average Cost: Most homeowners pay between $6,500 and $10,500 for a 3-ton, 18 SEER air conditioner with a two-stage compressor.
Cost factors are straight-forward: The central air conditioning unit's size, quality, efficiency, performance level and the complexity of installation are the major determinants of final cost.
The units in our Top Central AC list are manufactured by brands known for superior quality.
What is an Air Source Central Air Conditioner?
Let's break down that question to find the answer:
Air source: The AC pulls heat from the air in your home and, here's the key, releases it in the air outside.
While this is obvious, we mention it in distinction to a geothermal or ground-source air conditioner that releases the heat through piping beneath the ground or submerged in water.
As a result, air-source ACs are not as energy efficient as geothermal units. However…,
Central: This means it serves the whole house – or a large section of a very big house. The units in this list work in conjunction with an air handler, which in most homes is a gas furnace. Cooled and dehumidified air is pushed through supply ducts into each room or zone of the home. Return ductwork circulates warm, humid air back to the air handler to be "treated."
Air conditioner: These units supply cooled and dehumidified air only. The refrigerant in the system absorbs heat indoors and carries it outside to be released. They do not have reversing valves like a heat pump, so central AC units cannot supply heat.
As noted, they DO require ductwork, unlike a ductless mini split central AC, or heat pump.
Top 10 Most Efficient Central Air Conditioners
1-4 are Variable-capacity ACs: They have compressors that operate between 40% (25% on some models) and 100%. The "speed" of the compressor modulates very slightly up or down to maintain very even indoor temperatures. They are the most expensive, most efficient and remove the most water from humid indoor air.
5-7 are 2-stage models: These units are top-sellers for their balance of efficiency, climate control and reasonable cost.
2-stage central AC units are manufactured with compressors that run at 65% of their potential to maintain your home's comfort level. When outdoor temperatures rise quickly or you turn down the thermostat, they shift to 100% capacity to catch up.
8-10 are Single-stage ACs: Their compressors operate at 100%. They are the most affordable and least efficient. In very humid weather, they might not remove as much moisture from the air as you would like.
Remember, the list is grouped 1-4/variable capacity, 5-7/two-stage and 8-10/single-stage, so the most efficient air conditioners top the list.
Identical Brands – Most of the units in our list have a "twin" from another brand. For example, the Carrier Infinity 26 and the Bryant Evolution Extreme 26 are identical in all but the cabinet and name plate.
So, if you don't see your favorite brand on our top 10 list, then check the Identical Models entry at the end of each Review. It might be there. Below the Reviews, we also list a who's who in HVAC equipment manufacturers and the brands each makes.
Full Reviews
Here are the full details on performance, features, pros and cons, and our expert recommendations on how to get the optimal benefit from each model.
Top Variable Capacity Central Air Con Units: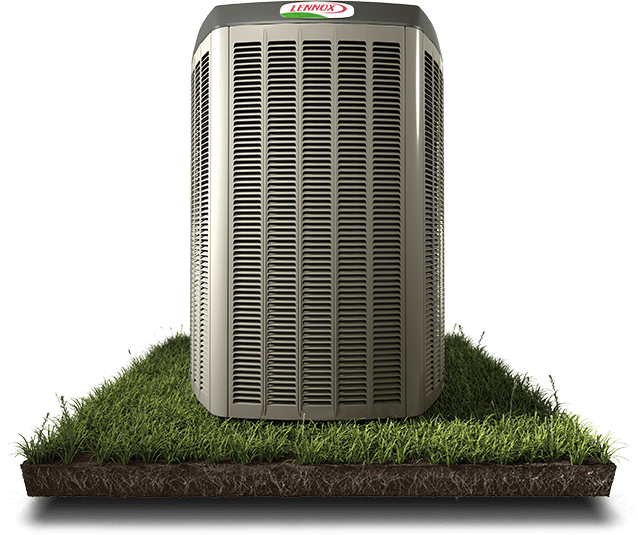 After being considered a premium brand for decades, Lennox's quality and reputation began suffering in the 1990s. It was plagued by supply chain issues too, and customers often went weeks with no AC waiting for a part.
About a decade ago, Lennox made the commitment to improve quality and solve supply chain issues, and the results have been impressive.
The brand has significantly boosted the quality of its proprietary parts, and Lennox now makes the most efficient ACs in every tier. They are pricey, yes, but dependable and cutting-edge efficient.
Installed Cost: $7,900 – $12,500
Efficiency: Up to 28 SEER
Performance: Variable Capacity
Top Features: The compressor modulates between 40% and 100% in very small increments to maintain indoor temperature within about 1 degree of the thermostat setting.
Variable capacity performance is quieter, with operating noise as low as 56dB, and does a better job removing humidity than a two-stage model. Lennox makes compatible smart thermostats that work with Alexa, Google Assistant, Apple HomeKit and a phone app.
Pros and Cons: You will cut energy use and cost with this unit while enjoying premium indoor climate control. For that performance, you'll pay a higher price than for any other unit in our list. Lennox's Quantum coils is a proven winner.
This unit came out last year, but the variable capacity technology isn't new, so concerns about "first year" products are unfounded.
Finally, while quiet, Carrier's top model, reviewed next, has a dB rating of just 51. Lennox's 10-year parts warranty is average for top ACs.
Best ROI: The Lennox SL28XCV makes the most sense in the hottest, most humid climates and for those who are committed to the eco-friendliest air conditioning, even if they don't recoup the higher equipment cost through energy savings.
Identical Models: This unit is one of a kind.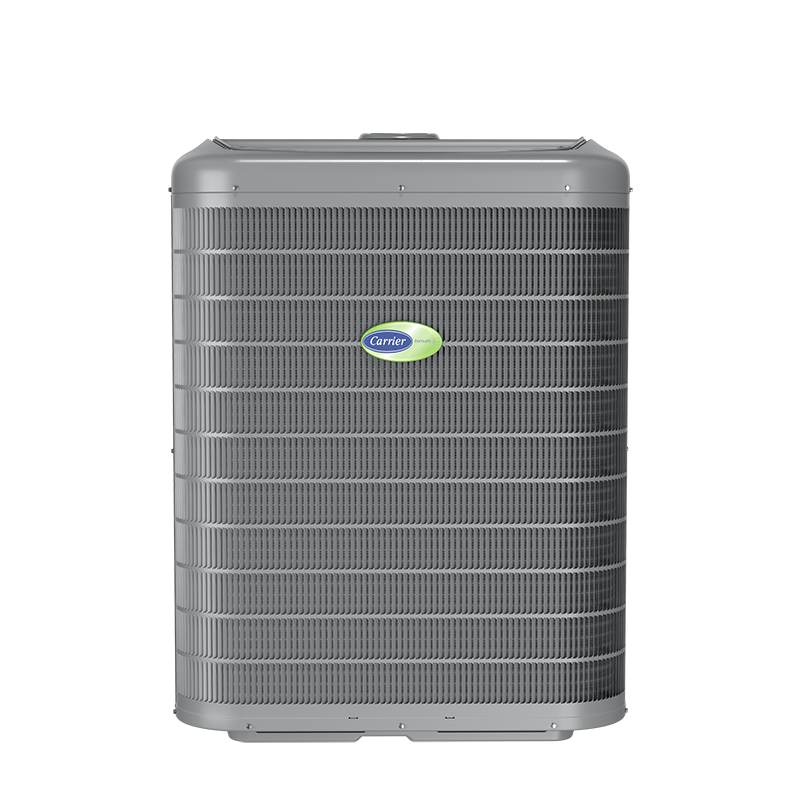 Carrier is consistently among the top tier of brands in quality ratings from consumers and independent testing groups like Consumer Reports.
Installed Cost: $7,400 – $12,000
Efficiency: Up to 26 SEER, 16.5 EER (EER, or Energy Efficiency Ratio, and SEER are measured differently, so direct comparison of the numbers isn't useful.)
Performance: Variable from 25% to 100% capacity
Top Features: The variable capacity compressor runs as low as 25% to maintain even temperatures and make it the quietest unit in our list. Smart thermostats are available.
Pros and Cons: While slightly less efficient than the Lennox model, overall quality is superior. Carrier's Greenspeed variable capacity technology is 15 years old and proven.
This would be our pick for the variable capacity unit that is sure to give 20 years of reliable service. The 10-year parts warranty includes complete condensing unit replacement if the compressor fails.
Best ROI: Warm, humid climates where a workhorse AC is needed from spring into fall. This unit will keep outdoor noise lower, so it's a good choice where a patio or deck is often in use close to where the unit is installed, or the AC sits outside a bedroom window.
Identical Models: Bryant Evolution Extreme 26. If your local Bryant dealer has a better reputation than the Carrier installer, don't hesitate to choose the Bryant version.
This was the most efficient AC two years ago, only to be surpassed by the introduction of the latest top model on the list.
However, Lennox XC25 is still efficient enough for the harshest summer heat where it will use only half the energy of an entry-level AC. And it has been around since 2016, so there's a strong track record of reliability being developed.
Installed Cost: $7,100 – $11,500
Efficiency: Up to 26 SEER
Performance: Variable capacity
Top Features: A modulating AC runs at a lower capacity than a two-stage model. Cycles are longer, quieter and more energy efficient. The result is better temperature balance and more humidity removed from the air.
When the air is drier, it feels comfortable at a higher temperature, so a variable capacity AC allows you to further save money by setting the thermostat a few degrees higher.
Pros and Cons: While ultra-efficient, the cost is high. Expect to cut your energy costs for air conditioning by 25% to 40% depending on what you're replacing. You'll have to do the math to see if those savings will add up over 20 years to make the expenditure a smart one.
Best ROI: If you've had good luck with Lennox products and live where summers are miserably hot and humid, consider this model.
Since homeowners in those climates don't need a lot of winter heat, we would couple this unit with an 80% AFUE two-stage Lennox gas furnace like the premium-performance Lennox SL280V or NV (low-emissions) models.
Identical Models: Lennox Corporation makes other brands, notably Armstrong Air and AirEase, but this unit is only sold under the Lennox name.
If you're not familiar with Daikin, perhaps Goodman and Amana are more familiar? In 2012, Daikin bought Goodman and acquired Amana in the deal.
While new to the North American market, Daikin has been a global leader in air conditioning technology for 40+ years, especially in Asia and Europe. Daikin makes some of the top-selling, highest-rated mini split systems.
Installed Cost: $6,900 – $11,200
Efficiency: Up to 24.5 SEER
Performance: variable capacity
Top Features: Daikin has been on the leading edge of variable capacity, inverter compressor technology. The result is extreme temperature balance and precision along with superior humidity removal. The Daikin One+ smart thermostat is compatible.
Pros and Cons: This unit might produce the best indoor comfort of any on the list. Daikin compressors are proven to be dependable.
The 12-year parts warranty includes unit replacement. If the compressor or coil fails during the warranty period, Daikin will replace the entire condensing unit (aka outdoor unit or AC). Fewer dealers offer Daikin, so your installer options are more limited than if you choose Carrier or Lennox.
Best ROI: Designed for harsh summers, this variable capacity AC will give you its best performance and lowest energy use when paired with an air handler or furnace with a variable speed blower motor. This is true of all modulating air conditioners.
Identical Models: Goodman GVXC20 and Amana AVXC20. The Amana version comes with a Lifetime replacement warranty on the compressor. Goodman offers a Lifetime compressor warranty, but the replacement period is 10 years.
The reason we chose the Daikin model for the list is that Daikin requires a factory-trained installer to do the work. While this might cost a few $hundred more, we believe it will ensure a properly installed unit, which is essential for long-term durability.
Top Two-stage Central Air Conditioners
Here's Lennox again, this time with the most efficient two-stage air conditioning available. This unit has been out for 6-8 years with a good service record – so far.
Installed Cost: $6,400 – $10,500
Efficiency: Up to 21
Performance: Two-stage cooling. The compressor runs on the lower capacity, which is 65%, most of the time. The results are AC cycles that are quieter than a single-stage unit, more efficient and remove more humidity.
Top Features: Two levels of cooling, excellent dehumidification and smart-thermostat compatible including WiFi.
Pros and Cons: This Energy Star certified AC cuts energy use and cost. It isn't as efficient as variable capacity models, but cost is lower, and the SEER rating is high enough for most climates.
Lennox quality is improved, and Consumer Reports, once again, rates Lennox among as reliable as Bryant, Rheem and American Standard, though a step behind Trane, Armstrong and Ducane, which is a Lennox brand.
The 10-year parts warranty with no replacement warranty is so-so.
Best ROI: This unit makes the most sense in a very warm climate where AC runs more than 6 months of the year.
Two-stage cooling will still do an adequate job of climate control, preventing temperature swings and removing sufficient humidity. It's a good choice if you want high performance without the cost of a variable capacity AC.
Identical Models: None
This unit was developed by Goodman first, and it's been on the market for enough time to demonstrate good reliability.
We list the Daikin version because we think having a Daikin factory-certified installer will give you the best shot at long-term dependability.
The factory-trained requirement doesn't apply to Goodman products, and that is part of what allows Daikin to offer the Goodman brand at a lower price.
Installed Cost: $6,200 – $10,700
Efficiency: Up to 19 SEER
Performance: Two-stage / 2-stage compressor, good dehumidification, and indoor climate control.
Top Features: Energy Star certified, which qualifies it for rebates from your energy provider. Rebates are covered below. The Daikin One+ smart thermostat with WiFi and smart-home compatibility can be installed to control this unit.
Pros and Cons: Good efficiency and performance are backed by a 12-year warranty with full condensing unit replacement coverage if the compressor fails.
While it costs more than the Goodman and Amana versions, and the warranty isn't quite as good, you have greater assurance of proper installation from a factory-authorized contractor.
Best ROI: It's geared for hot, humid climates. We would pair it with a gas furnace with efficiency of 80% or the low-90's plus a variable-speed blower that delivers better climate control.
Identical Models: Goodman GSXC18 and Amana ASXC18. If you want a premium warranty, go with Goodman or Amana. Both brands offer a Lifetime warranty with 10-year complete AC replacement on the compressor.
York and identical Johnson Controls brands have had a range of troubling mechanical issues, most prominently coils that leak. In fact, in 2017 the companies settled a class action suit involving those coils.
After that wake-up call, Johnson Controls invested heavily to solve the issues. This is a new model, designed after the R&D investment, so perhaps, these problems have been fixed. Another result of the changes is much higher efficiency in York's top models.
Installed Cost: $6,600 – $10,700
Efficiency: Up to 19.75 SEER
Performance: 2-stage compressor runs at 65% power most of the time to produce higher efficiency, better indoor comfort, and less noise.
Top Features: The features are standard for 2-stage models.
Pros and Cons: While York dependability remains suspect until proven otherwise, which might still take 5+ years, this unit is backed by a solid warranty. The compressor is covered for Lifetime; all other parts are backed by 10-year coverage.
Best ROI: It is designed for warm, humid weather. For convenience, consider the York Hx touch-screen WiFi thermostat.
Identical Models: Coleman AC21, LuxAire AL19
Top Single-stage Central Air Conditioners:
Efficiency improves every year in the residential split system AC market, and Lennox is usually out front. This is the most efficient single-stage option.
Installed Cost: $5,700 – $9,100
Efficiency: Up to 18.5 SEER
Performance: 1-stage compressor runs at full capacity during the cycle. The 65dB noise rating is pretty quiet for a single-stage air conditioner.
Top Features: Lennox's Quantum coil is one of the most efficient available and a major reason for the brand's dominance in efficiency. This unit is compatible with Lennox's smart, WiFi thermostats.
Pros and Cons: It's a new model, introduced in 2021, so the dependability verdict isn't in. However, the basic technology has been around for 5+ years, so that might give you some peace of mind. The warranty is average, 10 years on everything but no full replacement coverage.
Best ROI: With 18.5 SEER efficiency, this unit is ideal for homeowners in very warm climates who want to cut energy costs without paying extra for staged (two-stage, variable capacity) air conditioning.
Identical Models: None
See the information above on the York YXT 19 to learn about problems and changes Johnson Controls has made to its AC line.
This is a new model, so reliability isn't proven. But it is very efficient for a single-stage air conditioner, Energy Star certified.
Installed Cost: $5,500 – $8,800
Efficiency: Up to 18.5 SEER
Performance: Single stage, so it runs at full capacity (and noise). Cycles don't remove as much humidity as air conditioners with variable capacity or two-stage performance.
Top Features: Redesigned compressor and coil should prove more reliable than older versions.
Pros and Cons: We like the higher efficiency of the newer York models, but won't be convinced for a few years that York quality is improved. This is a fairly pricey AC to take a risk on. The 10-year parts warranty is average but does offer some protection against poor quality.
Best ROI: Because it is a single-stage unit, it can't remove as much humidity. Therefore, we recommend this AC for hot regions with moderate or low humidity – arid areas of the Mountain West and Southwest.
Identical Models: LuxAire TC7 17 and Coleman CC7 17.
The list is crowded with Lennox models because, after all, we are presenting the 10 Most Efficient 2022 ACs.
This unit has been on the market for almost a decade, so reliability has been demonstrated.
Installed Cost: $4,900 – $8,200
Efficiency: Up to 17 SEER
Performance: Single-stage cooling.
Top Features: Noise level is average for 1-stage ACs at 71dB. The recently introduced Lennox Quantum coil is getting good reviews. Everything else is pretty standard.
Pros and Cons: Efficiency is good, and this is a dependable unit. The 10-year compressor warranty is standard; we don't like the 5-year general parts warranty. Lennox remains the top brand with the poorest warranty coverage.
Best ROI: As noted, single-stage units aren't good dehumidifiers. So, a hot but fairly dry climate is the right spot for this model.
Identical Models: None
How Much is the Installation?
The prices above include installation, i.e., they are installed prices.
The estimates you receive should be itemized. Expect costs for that side of the equation to be $2,500 to $4,000. They should include labor of course but also a new refrigerant line set, refrigerant charge and testing the system.
Rebates
Your utility company probably offers rebates on the installation of any of the models in this list. Add a programmable thermostat, and you'll get another rebate, most likely.
Rebates for energy efficient HVAC equipment range from $250 to $800. The thermostat rebate for qualifying models is $50 to $100.
For example, DTE Energy is currently offering a $500 rebate on most of the units in the list including the Daikin DX20VC and even the single-stage York YCG 17.
Check your utility company's website or talk with your AC installer about qualifying models, the rebate amount and how to apply/receive the rebate.
Brands
In most cases, the brands listed are identical or nearly so. The parent company is listed followed by the brands.
Carrier Corporation: Carrier, Bryant, and Payne. Payne's lineup is limited.
Daikin: Daikin, Amana, and Goodman
Ingersoll-Rand: Trane and American Standard, which are identical.
International Comfort Products (ICP): Arcoaire, Comfortmaker, Day & Night, Heil, Keeprite and Tempstar. ICP is owned by the Carrier Corporation, and its brands are very similar to Carrier/Bryant.
Lennox: The Lennox Corporation owns Allied Air, the manufacturer of Armstrong Air, AirEase and Ducane brands which are identical to one another but not to Lennox ACs.
Johnson Controls: York, LuxAire, Coleman, Gibson, and Champion. The first three are identical. Gibson and Champion make a limited lineup.
Nortek Global: Maytag, Frigidaire, Gibson, Broan and Miller offer some identical models. Tappan and Westinghouse are discontinued Nortek Global brands.
Paloma Industries: Rheem and Ruud, which are identical brands.